"I wanna go to college for the rest of my life," the words of Asher Roth from his song I Love College. We get a lot of input about how wild or enjoyable college life can be from the different things we hear and see from the media. Say for example the introductory sentence, movies like Van Wilder and things like that. Although, how true can these claims be? Yes, life before college graduation can be a party but what if you're actually falling behind because of it?
It is a struggle to keep up with classes while all you want to do is skip class and have fun with friends. During your days in college, that's when you start to feel independent and rebellious. That's not really much of a problem since everybody goes through that though some go through it later in life. The issue here is to counter that before it gets worse.
Most college students believe it's too late for them. It shouldn't be, because it never really is. What has happened in the past is a learning experience, most especially those mistakes you've done like wasting time getting drunk. As ridiculous as it may seem, committing faults in while in college is better – better than having to commit them after college graduation where stakes are higher.
While people believe that the ultimate goal of college is to graduate, that's where they're wrong. The whole point of going to school is to learn. College is no different. This is when you realize how to put things into order and apply the things you've previously learned, in real life. So no, it doesn't matter how long you take to graduate college for as long as in the long run you understand and fix your mistakes, you'll get there.
And, with the fact that you're already screwing around surfing the net, allow us to help you out with certain advices that will keep you on track and keep you from sinking.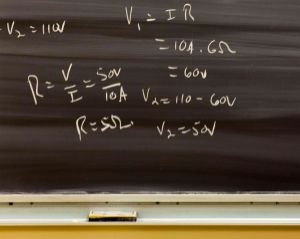 Writing on Chalkboard: Stockvault
Begin by asking yourself why you're in college in the first place. Usually, our choices and goals are influenced by family and friends. Often times we get pushed into college without even being certain so we're not really in the proper state of mind set when we start. But that's okay. As previously stated, these things help us grow and now that you're in the right mind to process all these, it's time to ask yourself what you actually want to get from college.
By doing so, you can turn yourself around and set things straight. You get a better perspective of things thus giving you more reasons to set goals properly. Not only that, you get to understand yourself more – assess your capabilities and weakness and work your way around them.
Now that you can recognize your needs and wants for your life in college, build a routine. Building a routine allows you to manage your time better. This way you can allot time for your studies, socializing, and more importantly, sleep. Turning your college life around doesn't mean you have to let go of things you like, things that make you happy. College isn't punishment, for crying out loud. The stuff you hate and things you enjoy, when incorporated equally into your life, makes you a well-rounded person.
With an improved self-control, you can set higher standards for yourself. This may seem like asking for too much but you have to be aware that when you target a higher benchmark, if you do miss it, there's a certainty you're less likely to fail. If you aim for something greater, chances are you'd reach your primary goal which is the passing. Make sure you're not any higher than your grade.
Other than that, don't forget to take breaks. After all, you're only human. Even machines need time to cool down – you do too. These breaks should be your time to recuperate and relax. There's no point in being hard on yourself. Let's face it; student's that overwhelm themselves with studies and pushing themselves on the very edge of their limit tend to fail because of the stress they get themselves into. It's only logical to give it a rest sometimes.
Finally, remember, college is supposed to be one of the greatest times in your life and students are bound to get distracted at some point but it's never take the easy way out and flunk college graduation. Who knows, one day this'll all be just a fond memory and it'll be your turn to buy gifts for college graduates.
This article is by Gabrielle Nicolette Roales, a recent graduate of Fine Arts major in Advertising Arts who now works with
GradShop
as a content writer. Gabrielle plans to take up a Master's Degree in Psychology in the near future and aspires to motivate students to pursue their education.